Three weeks ago I went on a two-night backpacking trip to Little Round Valley via the Fuller Ridge Trail. On the middle day I day-hiked around the mountain counterclockwise, downhill to Strawberry Junction, then south on the PCT to the Wellmans Trail, then continued uphill to Wellman Divide and the San Jacinto Peak Trail; after summitting I hiked back to Little Round Valley and my campsite. I hiked back out on Fuller Ridge the following day.
The big difference on this trip was that I hiked it solo. My wife, Vicki, wasn't feeling up to the challenge. Therefore, I'd like to apologize in advance to those on the board that clicked on this TR hoping to see some photos of Vicki (she's admittedly much better looking than I am). This gives you an opportunity to stop reading right now.
I left San Diego at 4am and arrived at the Fuller Ridge Trailhead about an hour after dawn. Black Mountain Road had a couple of tricky spots for my sedan (a Toyota Corolla), with the worst one being just before the final paved hairpin near the top, but I made it to the parking area without bottoming out the car. Then I finished getting my gear together and started hiking.
Panorama view north and east from the Fuller Ridge Trail
The north face of San Jacinto Peak
San Jacinto Peak in the distance with plenty of granite boulders
Looking back along Fuller Ridge. I think it's the prettiest trail on the mountain!
There was water along this section of trail, at Lower Bed Springs Crossing (as Hikin' Jim calls it). I stopped there for a short break, then continued onward to the intersection with the Deer Springs Trail, and began the tough part of the day, climbing up through the sun-blasted hillside full of buckthorn.
Buckthorn-lined path. I wonder why nobody wants to trim this stuff back?
Water gurgling over mossy boulders at Upper Bed Springs Crossing
Video of the water flow
I refilled my water bladder and also filled an extra gallon of water there at Bed Springs before continuing on. It wasn't fun carrying an extra eight pounds but it was worth it not to have to hike back down here later on that day.
I continued hiking up to Little Round Valley and set up camp in the "Nutcracker Perch" campsite. I knew from past experience that there were some big boulders up there that I could climb on in order to check out the sunset.
But first I had to test out my new one-man backpacking gear! New gear! Oh yes!
My new Big Agnes Copper Spur UL1 tent
My new Western Mountaineering Ultralight sleeping bag inside the tent
Was I warm? You bet I was warm! It's rated to 15 degrees but it only got down to 44 that night. It was excellent, especially when the howling Santa Ana winds started up around midnight. I just burrowed into the hood and enjoyed the sound of the wind overhead.
Cooking breakfast on my new Jetboil MiniMo Stove in the vestibule of my tent - it was cold and I didn't want to get up.
This is not a smart move, safety-wise, so I don't recommend it unless you like to stay warm while living dangerously!
Once the sun hit the tent and the outside air warmed up I began getting ready for the day's hike. The big loop was about eleven miles with 2700 feet of elevation gain (and loss). I packed some lunch and snack and emptied all of my water containers into the big gallon platypus and left it at camp for later. Then I headed back to Bed Springs to try out yet another piece of new gear.
Testing out my new Sawyer Squeeze Filtration system - it worked well, weighs three ounces, and costs $20
After that I continued downhill to Deer Springs, where the CCC still had their camp running strong. I discovered them working a bit further down the trail. They were re-routing the PCT a bit higher on the hillside and were doing an impressive job of it.
California Conservation Corps worker with a gas-powered rock drill. It was LOUD
Pine Cone Rock, looking funny as always
I made it to Strawberry Junction and turned left, staying on the PCT.
Panorama shot of a nice campsite east of Strawberry Junction.
I discovered that Strawberry Cienega was dry, exactly the way all the reports here on the board said it was. Then I took a nice break and had lunch nearby, as the views are excellent from this section of trail.
Panorama view of Tahquitz, Lily Rock, and Suicide Rock
I continued onward and turned left at the Wellmans Trail and headed uphill toward Wellmans Cienega and Divide. It was nice to see that someone had done a lot of trailwork along here and cut the ever-encroaching chinquapin way back. Thanks! Your work is appreciated!
Ripe gooseberries (currants) near Wellmans Cienega
Late-season pools of water still present at lower Wellmans Cienega
I decided not to stop at Wellman Divide, and continued hiking uphill to the peak. Why stop when you're hiking strong?
It turned out that the tram was closed for maintenance this particular weekend, so the entire south side of the mountain was nearly empty of people. Only the tough hikers were present on the mountain that day. It was very peaceful, and kind of eerie to be on the San Jacinto Peak Trail on a pleasant Saturday afternoon and only see a total of five people!
Panorama shot looking south with Jean Peak on the right
Although I was tired when I reached the trail junction just below the peak, I decided that I really should bag the summit. And it was worth it, as always. There were only a few people up there taking a break, and we all got to watch a sailplane pilot perform his manuevers for a while. If only we hikers could figure out a way to hitchhike on some thermals to climb mountains! But then our legs would look like straws rather than the exquisitely toned and muscled appendages that they are.
San Jacinto Peak Summit Hut
After that I hiked back down the Deer Springs Trail to my camp at Little Round Valley. The meadow was dry and the grasses and corn lillies were all turning brown in anticipation of winter.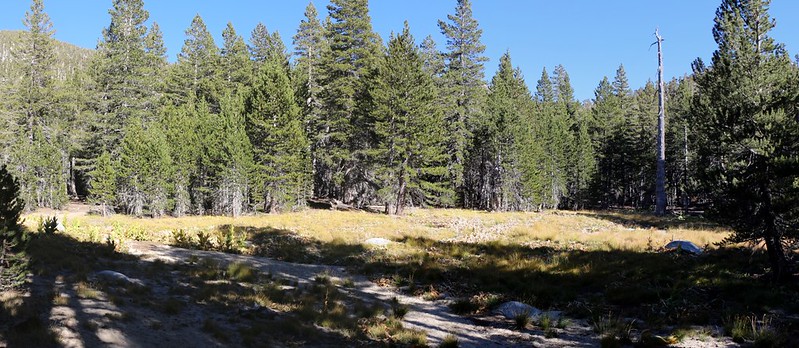 The meadow in Little Round Valley
I slept alone again that night, and the gusty Santa Ana winds returned once more around midnight. But I was warm and cozy. The next morning I woke up, packed up, and hiked on back to the car. The air was clean and crisp and felt great. And the sky was that deep blue that you only see at high elevation.
View west over Hemet from the Fuller Ridge Trail
San Gorgonio Mountain across the way as the trail curves around to the north
After that, it was simply a matter of babying my car over that one bad section of road, and I was heading back to my usual life in San Diego. It's true that I survived my solo trip without dying of loneliness, and I had the chance to test out some new gear, but let's face it: Hiking with my wife is a lot more fun, and some photos of her certainly would have helped to spice up this trip report!
For an even longer trip report you can check out
my webpage
And for a topo map of the hike check out my
CalTopo Page